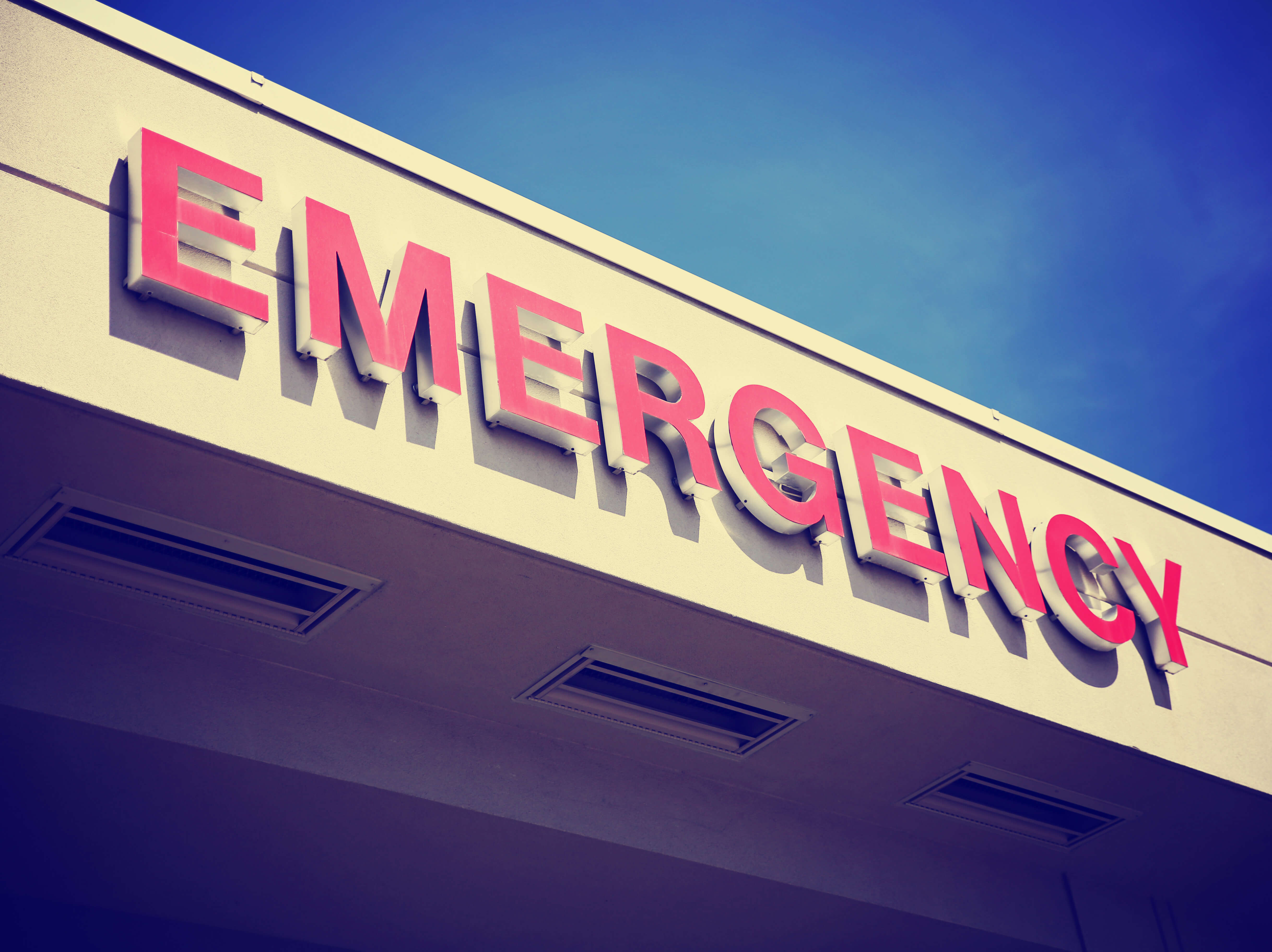 S.H. Plantz, MD; FAAEM; Associate Professor of Emergency Medicine, University of Louisville School of Medicine (retired)
For me selecting emergency medicine was a last-minute decision. I did an elective in emergency medicine at UNMC in September of my senior year, doing an emergency medicine elective, I suddenly realized that this was my chosen field. Even back in 1988, despite being a new field, due to the limited number of programs, it was a very tough match. As a result, I knew I had to go all out to increase my chances of being selected.
First, I did my absolute best in medical school. I was above average in basic sciences but achieved nearly straight A's in the clinical rotations bringing me up to nearly the top 15% of my class my senior year. I sacrificed, basically devoting all my time and energy to school. When clinics started, I was always the first to arrive and the last to go home.
I made a point of reading every day about my patients' diseases and preparing myself to answer any questions the attending might raise. When I wasn't reading about my patients, I was reading about those assigned to the other students. I avoided being a smart ass about it, but when another student faltered on a question in rounds regarding evaluation or treatment of their patients, I was always ready to provide the correct answer.
Second, all through the first two years of medical school, I spent at least an hour every day before I went to bed doing multiple-choice questions. Back then, we did not have any questions online, but I bought every book of USMLE® Step 1 and USMLE® Step 2 question book I could get my hands on. I highlighted every question I missed and got in the habit of repeating missed questions every day. It paid off with fairly high board scores.
Third, I did as many emergency medicine electives as I could. As I mention, my first was in September of my senior year; up until then, I was planning on radiology. I quickly revised my schedule and arranged a month at Cook County in October, which at the time was a new program, and I figured an easier match.
Then, instead of taking a month off for Christmas break, I scheduled a last-minute 21 days at Loma Linda. I was the only student in the emergency department, and when the program director asked me how many shifts I wanted, I told him I would like to do shifts every day and the last half all night shifts, realizing I would get more time with the attendings. Because I was the only student, they relented and let me do 20 out of 21 days. I was able to get to know all of the attendings and residents because I was present for every shift.
Fourth, I found out for $100 and evening classes; I could become an EMT-Basic. The classes were 4 hours a night, once a week for eight weeks, and then doing a 24-hour ride along every weekend. Fortunately, I had scheduled light rotations for January and February for interviews and, as a result, was able to complete the training. More importantly, it gave me something unique to address in my interviews and something to write about in my personal statements.
Fifth, back then, ACLS and PALS were optional for medical students. Both were available on the weekends, so I squeezed them in prior to my interviews, again giving me something to talk about in my interviews. I am pretty sure I was the only applicant that had completed both courses as a student.
Sixth, UNMC, where I went to medical school, happened to put on a 4-day emergency medicine board review course, and I lucked out, it occurred in January. The course was very expensive for a medical student, but I was able to talk the director into letting me pay a reduced fee. I sat in the front row, took notes, showed interest, and during the breaks went out of my way to meet as many of the other students as possible, several of which turned out to be faculty at programs that I would eventually apply for interviews.
Seventh, at the time, there were no study books of questions for emergency medicine. So I called McGraw-Hill and eventually reached the person in charge of their Pre-Test Series and asked them why they didn't have one for emergency medicine. His response, after learning I was an English major in college was, "We don't have one, but why don't you organize it and edit it?" So a final talking point during my interviews was to ask the attendings if they would be interested in being an author of 30-40 multiple choice questions of one of the topics. Since this was such a new field of study, basically all of them volunteered, and soon I was in contact with them prior to the match.
Eighth, during every rotation, despite a personality of being somewhat inverted, I got out of my shell and introduced myself, and always volunteered for more work. I was able to get great letters of recommendation from UNMC, Cook County, and Loma Linda.
When I applied for interviews, I had already missed the deadline for applying to most programs, and there was only a small number still accepting applications. I applied to 7 and received 6 interviews which were considered a low number and a "risky" match. Fortunately, both Cook County and Loma Linda interviewed me during the electives.
By the time the last 4 interviews occurred late in February, I had completed ACLS and PALS, most of EMT-B training, a course in emergency medicine, and I was invited by the faculty at the interview to help me develop an emergency medicine question and answer book. In my personal statement and interviews, despite being very last minute to selecting the specialty, in the course of basically 4 months, I had quickly developed a number of unique talking points to address. Three of the program directors and even a few faculty members called me and asked me to rank their program first. I ranked six and received my first choice.
Had I just applied with my grades and board scores, I doubt very much I would have been considered as the number of spots was small, and most programs selected students from their own institutions. I believe I was able to match because I went out of my way to demonstrate a commitment to the field with extracurricular activities that supported my dedication to entering emergency medicine training.
--------
Martin Huecker, MD; Associate Professor, Research Director; Dept of Emergency Medicine; University of Louisville School of Medicine; Editor-in-Chief of Journal of Wellness; www.journalofwellness.com
Students often come to faculty seeking guidance on how to succeed in the Emergency Medicine NRMP Match. As EM faculty and research director, I have participated in many match cycles, interview seasons, and rank list meetings. As with many aspects of medicine, success in the Match is multifactorial. All EM programs want to interview and match well-rounded applicants. While faculty and residents who contribute to the decision on ranking applicants all look for different qualities, some common factors remain consistently important.
Researchers have attempted to determine which factors in applications can predict success in emergency medicine residency. This evidence can guide faculty and residents in the interview and ranking process of student applicants. One scoping review provides a helpful summary of most of the evidence to date 1. Much of the objective criteria highlighted here comes directly from this article by Yang et al.
One issue we must consider when choosing applicants is outcomes. What is 'success' in residency? Selection as chief resident, passing specialty boards, faculty preference/favorites? Yang et al. confront the issue of how to define success upfront but declare outcomes of Intraining exam (ITE) and American Board of Emergency Medicine Qualifying Exam (ABEM QE) (written boards) performance, American Council for Graduate Medical Education (ACGME) core competency evaluation scores, and graduation rank order list (GROL).
The main takeaways of the article match what we already believe: USMLE® scores predict board passage, but far less accurately predict clinical performance. All of the other data points have mixed results in predicting success. It might be more important/efficient to avoid applicants who could 'cause trouble' than to select for the superstars.
The paper provides a summary with findings for each data point (from other various empirical studies) that could predict the above residency outcomes: USMLE® scores, SLOE, Medical Student Performance Evaluation (MSPE), Interviews, Medical School attended, Core clerkship grades, EM audition rotation, AOA/GHHS, NRMP rank, OSCE and other. Overall, most of the studies cited in the review have small subject N's.
Let's go right for the elephant in the room: USMLE® Step 1 and USMLE® Step 2 CK have some predictive ability for ITE/ABEM QE and may even predict clinical performance. Step 1 and Step 2 are almost equivalent in predicting clinical success – no advantage to Step 2 scores for performance. One study found a possible advantage to USMLE® Step 2 CK scores in passing ABEM Oral Boards, but both USMLE® Step 1 and USMLE® Step 2 CK were predictive of ABEM QE.
Some of my favorite factors to consider in weighing applicants, the MSPE and clerkship grades, showed a prediction of GROL and residency assessment, and only one showed no association (that paper looked at clerkship grades and MSPE quintile rank) 2. Though quintile rank had no correlation at all, clerkship grade just barely missed significance. Alpha Omega Alpha (AOA) inclusion predicts higher performance, and Gold Humanism Society doesn't seem to.
One paper cited showed that students with heavy research (>5 presentations or publications) often ranked in the top third in GROL2. As research director, I already look very closely at scholarships in our applicants and encourage students to get involved early. This shows dedication to the specialty and displays the ability to juggle administrative responsibilities with clinical rotations and studying. It takes grit to stick with a maybe not always terribly super exciting research project.
SLOEs (much of the data is on the 'SLOR' that changed the name in 2013) had mixed results, with some studies showing prediction of intern success, but some showing minimal benefit. In students from 'non-top-tier medical schools,' the SLOE may help highlight applicant strengths.
Distinctive leadership such as athletic accomplishments predicts success. It's hard to play a competitive sport and balance schoolwork; thus, college athletes often represent solid candidates.
Non-standardized interview assessments predicted success in one study but not in another. Medical school attended, and Audition rotation honors were predictive in a couple of papers, but not in others. In summary, these qualitative factors trend toward being predictive of success.
The review cites one paper that discussed professionalism, thank you notes, medical school leaves of absence, etc. 3. The discussion section says the following:
The time associated with remediating a problematic resident may be more significant than graduating a resident who is "more successful." Thus, studies that predict unprofessionalism like those of Bohrer-Clancy et al. and Thaxton et al. may be more relevant to PDs. Several studies, across other specialties, have similarly examined early markers of unprofessionalism. For example, Papadakis and colleagues found that medical students who had concerning, problematic, or extreme unprofessional behavior noted in their medical student file were much more likely to later be disciplined by state medical boards. A study in psychiatry found similar results with negative comments on the dean's letter/MSPE, being associated with negative actions during residency.
This fits nicely with a book called Hiring For Attitude4. In elite occupations like Silicon Valley and Wall Street, most if not all applicants have the credentials, the raw material for success. You are all smart, but programs want to know who has the right attitude that fits with their culture.
I advise students that once they reach decent Step 1 and Step 2 scores, higher scores do not matter. You should focus on dedication to EM, building your CV and MSPE, and work ethic/grades in clerkships. Work hard on your EM rotations so that your SLOEs are strong. Practice interviews multiple times, check out various videos online by Vanessa van Edwards and check out her book 5. She studies the Science of Succeeding with People, teaching you how to be likable. And perhaps most importantly, avoid lapses in professionalism during medical school, both on campus and off-campus. If you have any of these 'red flags,' be prepared to address them and illustrate how you have grown from the experience and can ensure they will not happen in the future.
Emergency Medicine continues to increase in popularity, diversity, and scholarship. You have chosen a specialty where you can practice serious medicine, caring for the sickest patients (and some not so sick). It is tough but rewarding, and we welcome you on this noble path.
The views expressed here belong to me and not necessarily other EM faculty across the US or within my institution.
Yang A, Gilani C, Saadat S, Murphy L, Toohey S, Boysen-Osborn M. Which Applicant Factors Predict Success in Emergency Medicine Training Programs? A Scoping Review.

AEM Educ Train.

2020;4(3):191-201.

2. Bhat R, Takenaka K, Levine B, et al. Predictors of a Top Performer During Emergency Medicine Residency.

The Journal of emergency medicine.

2015;49(4):505-512.

Bohrer-Clancy J, Lukowski L, Turner L, Staff I, London S. Emergency Medicine Residency Applicant Characteristics Associated with Measured Adverse Outcomes During Residency.

The western journal of emergency medicine.

2018;19(1):106-111.

Murphy MA.

Hiring for attitude: a revolutionary approach to recruiting and selecting people with both tremendous skills and superb attitude.

2nd Edition. ed. New York: McGraw-Hill Education; 2016.

Edwards Vv.

Captivate: the science of succeeding with people.

Paperback edition. ed. New York: Portfolio/Penguin; 2018.
Back to Post List